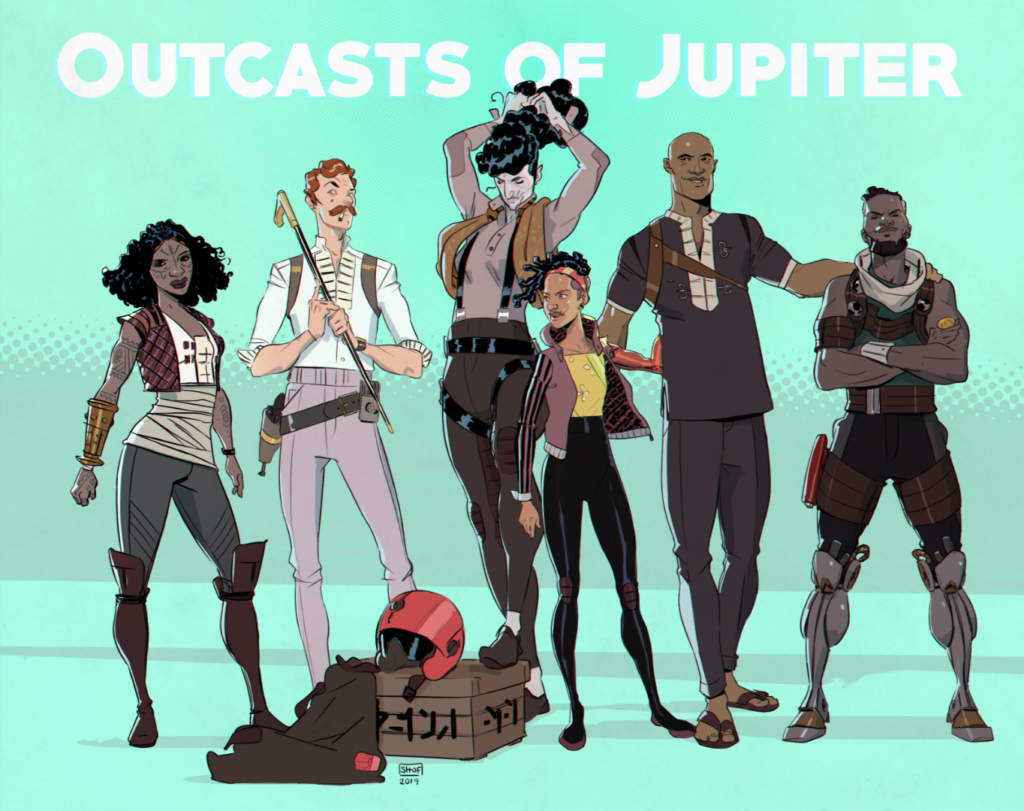 Creators for Creators is proud to announce Sobo and Shof Coker's project "Outcasts of Jupiter" as the third recipients of the Creators for Creators grant!
C4C: Congratulations, Shobo and Shof, on being the 2019 recipient of the Creators for Creators Grant. Please tell us a little bit about yourselves!
Shobo: Thank you! It's still all sinking in. Well, I'm a writer from Lagos, Nigeria. I live in Atlanta at the moment, but went to college in Memphis and called the Philippines home for about a decade. I've done everything from video editing to videogame news writing to online marketing.
Also, I think Donatello's the coolest Ninja Turtle.
Shof: Hi! I'm a Nigerian art director/illustrator that currently lives in San Diego. I've worked in the videogame industry for 10 years and recently worked on a film titled Liyana. I love Elif Shafak novels just as much as I do drawing.
C4C: Your bios say you both have studied illustration. When exactly did you start drawing? How were you introduced to art?
Shobo: Pretty young. I don't remember when exactly. Our parents are both artists so there was always art and creative process around the house. Art and creative expression never really felt like something we started doing in our house, it was as natural as learning how to talk, just another way of communicating.
Shof: As a kid, I saw Shobo drawing and copied him because I thought my big brother was cool (at the time :P). Cut to several years later and I'm the one still with pencil in hand, while Shobo has swapped it for the pen. Traitor! My father and mother are both artists. We were surrounded by Nigerian artists and creatives our whole lives. In a country that didn't really have much interest in the arts at the time, I'd say we were lucky.
C4C: How does your collaboration work as brothers?
Shobo: I'm older, so I tell him what to and then he goes and does something else.
No, really though, it's something I think about pretty often. We grew up pretty close, so we have a lot of the same fundamental influences, that helps put us on the same page in terms of a starting point. However, we've led very different lives since college, and those diverse experiences add some interesting flavor to whatever we work on. It's a constant push-pull, requiring a lot of trust.
Shof: There's a lot of shorthand thanks to our shared history and love of similar source material, but it's our desire to demonstrate an African perspective in popular culture that drives us. I think this always supersedes any process challenges, which aren't many as there's a solid well of patience and trust we share. I draw and Shobo writes. Sounds simple, but it helps that he's an illustrator, so he understands translating story into panels.
C4C: What drew you to comics? What kinds of comics are you into?
Shof: I've always been drawn to comics because of the unique and intimate dialog you have with the author. 80s and 90s Saturday morning cartoons like Knights of the Magical Light actually grew my love for comics as a kid. My favorite graphic novel is David Mazzucchelli's Asterios Polyp, but I love comics of all kinds like Tintin, Blacksad, Hellboy, Moebius, and Sergio Toppi books.
Shobo: For me, it was being able to inhabit visually and narratively rich worlds. I always thought it was incredible to be able to see a world through an artist/writer's eyes. Mostly, I love Tintin, Asterix and Obelix, Calvin and Hobbes, and almost anything Conan related.
C4C: Your proposed title is OUTCASTS OF JUPITER. Can you tell us a little bit about it? What can readers expect?
Shof: Visual influences that draw from contemporary African culture, Moorish architecture, and rich Nigerian mythology. A mind that often composes panels to the rhythm of Fela Kuti and Sade songs. A rare glimpse into an African vision of the future.
Shobo: Action, adventure, humor, and some gorgeous images. Also a lot of heart, and hopefully a fresh, interesting universe and world view that's a little different from what they might be used to, an African perspective.
C4C: Congrats again! Do you have any closing words you'd like to share?
Shof: Incredibly grateful! A lot of the creatives that make up the jury are creators and artists I've followed for ages, so it feels special. Can't express how much of a boost of confidence and validation the grant is. I'm excited about the platform this gives us to get the book over the line.
Shobo: It's hard to articulate feelings at the moment, but I'll try. I'm extremely thankful, humbled, and a little scared… but mostly hopeful. Isn't that grants like this are supposed to do? Provide hope?